Course Documents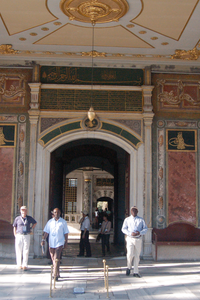 Syllabus
Each professor should make available to the students a syllabus of the course. This syllabus needs to include such information as an outline of the course topics, a listing of necessary assignments, a schedule of test dates, and the grading policy. Why? The syllabus serves as an 'offer' between the student and the professor. A syllabus does not remove the student's responsibility for attending class sessions, nor does it constrain the professor from changing the specific elements of the syllabus.
Style Sheet
References
What information must be cited? There is no need to cite facts deemed 'common' knowledge. How do we define common knowledge? If the 'common' person knows it as a fact, then it is common knowledge. However, there are two exceptions to this rule: if your entire argument centers on a fact, or if the fact is contentious in the discipline (though not contentious to the common person). In both of these cases, cite the fact. It is better to over-cite than under-cite.
The Examinations
The First Examination
Make sure you bring a clean blue book on the first day of the examination.
The Final Examination
This examination is due in my emailbox at 11:40am on Friday, December 14, 2007. Failure to get your examination to me in the appropriate format by the due time will result in a failure for the examination. I will acknowledge when I receive your examination.
Homework Assignments
The Research Paper
Class Activities The International Court of National Justice
(In-Class Activity of October 3, 2007)
The UN Security Council unanimously voted to create the
International Court of National Justice (ICNJ)
, a new IGO dedicated to hearing cases by ethnic minorities against its containing state (or states) to arrive at just compensation for alleged wrongs dealt them by their containing states. As it stands today, the nations of the world have no forum outside their state to right their suffered injustices. The UN Security Council created the ICNJ to fix that.
The Legolese Republic
(In-Class Activity of October 12, 2007)
The
Republic of Legoland
consists of two ethnic groups, the Leg (50%) and the Godt, (50%) from which the republic got its name. The president of the republic is a Godt, and the Godt have held power since independence. You are the Under Secretary of State for Ethnic Affairs and Other Unimportant Issues in the United States government. Secretary Rice has asked you for predictions on the future path of ethnic tensions in Legoland.