Introduction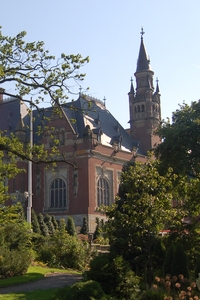 In the field of Political Science, there are no fewer than six subfields: American Political System, Law and Legalism, Normative Theory, Methodology, International Relations, and Comparative Politics. The two introductory courses you took, POL 101 and POL 102, gave broad brush strokes over all of these topics. Introduction to International Relations also gave broad brush strokes, but delving into the entire IR subfield. This course is first and foremost an International Relations course, but it adds definite aspects of Law and Legalism.
The underlying theme for this year's course is 'What are the right questions?'. That is what education, at its most basic and most important level, teaches each of us. It is also that for which we should strive with our every waking breath. Once the right questions are asked, the answers usually follow quickly.
Required Text:
Fundamental Perspectives on International Law

, 5th edn., William R. Slomanson (2007) (ISBN: 0-495-00745-5).
Recommended Text:
Style Manual for Political Science

, by the American Political Science Association: (ISBN: 1-878-14733-1).
The required book is available from the UT Bookstore and from neighboring bookstores. It will be used extensively in the class, so it would behoove you to purchase it immediately (or sooner). The Slomanson text will serve as our primary textbook.
The Style Manual itself is optional, although following it is not. It appears as though the APSA is readying itself to publish an updated edition. As such, the bookstore has a limited number of copies of that edition. In lieu of having you purchase the entire style manual, I have distilled the necessary portions into a document called
APSA References
, accessible from this website. This document provides examples of reference lists so that you format them correctly.
I also thoroughly suggest that anyone thinking about writing for a living have a copy of the Chicago Manual of Style. The current edition is 15 (and is in UT Orange). It may be a bit expensive, but it answers all the questions you will need to ask as writers.